Main contents start here
5. Wages and Salaries per employee
Wages and salaries per employee of service industry are 2,930 thousand yen
Wages and salaries* per employee of the service industry are 2,930 thousand yen. Looking at these by type of legal organization, the figure for "Individual proprietorships" is 1,830 thousand yen, for "Companies" it is 2,960 thousand yen, for "Non-company corporations" it is 3,500 thousand yen, and for "Unincorporated organizations" it is 2,580 thousand yen.
*Annual wages and salaries for employees including salaried directors include tax such as income tax and social insurance premiums. Hereinafter mentioned as same.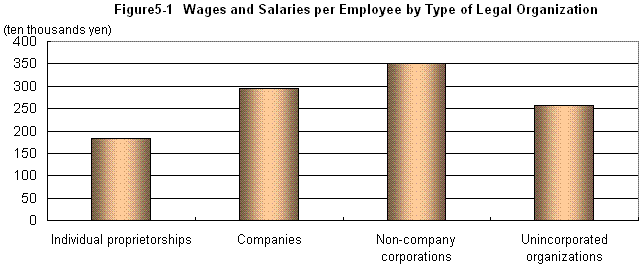 The pay level in "Scientific and development research institutes" is high
Of wages and salaries per employee in classification medium industry, the highest is 6,320 thousand yen in "Scientific and development research institutes", followed by 5,790 thousand yen in "Video picture, sound information, character information production and distribution", 5,530 thousand yen in "Advertising", and 5,110 thousand yen in "Machine, etc. repair services, except otherwise classified".
In comparison, 1,570 thousand yen in "General eating and drinking places" is lowest, followed by 2,040 thousand yen in "Religion", 2,250 thousand yen in "Miscellaneous education, learning support" such as Supplementary tutorial schools, and 2,260 thousand yen in "Laundry, beauty and bath services".