Main contents start here
News Bulletin
September 30, 2013
---
Mr. Shigeru Kawasaki became new President of the IAOS
Mr. Shigeru Kawasaki became the new President of the International Association for Official Statistics (IAOS). He is the first Japanese to hold this title. He is a professor at Nihon University and the former Director-General of the Statistics Bureau of Japan.
On August 27 2013 at the General Assembly held in Hong Kong, Mr. Shigeru Kawasaki became the 14th President of the IAOS. He was chosen based on his distinguished career and international experience. He is the first Japanese to become President of the IAOS since the IAOS was established in 1985. The president's term is for 2 years.
The IAOS is a global and academic organization for official statistics. It promotes understanding and advancement of official statistics by holding world conferences to present research, publishing journals, fostering young statisticians and so on. The IAOS consists of about 340 individual members, such as statisticians of institutions and researchers of universities, and about 40 group members, such as National Statistics Offices and international organizations.
With the growing importance of the globalization of statistics and statistical literacy, it is expected that his appointment will further increase Japan's contribution to the improvement and development of international official statistics.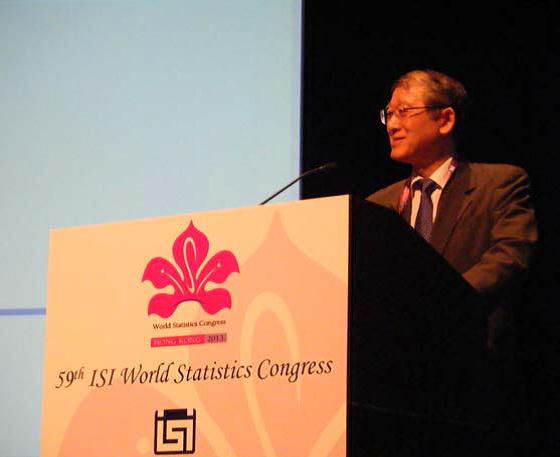 Profile
2007-2011 Director-General of the Statistics Bureau, Ministry of Internal Affairs and Communications, Japan
2011 Council member of the International Statistics Institute (ISI*)(2011-2015)
Nomination for the President-Elect of the IAOS
2012 Professor of economics at Nihon University
2013 President of the IAOS (2013-2015)
(He also has further international experiences, such as a chairperson of East Asian Statistical Conference, chairperson of Population Census Conference, chair of a session of the United Nation Statistical Commission and work experience in United Nation Statistics Division.)
*The ISI is a non-profit, non-governmental organization and has consultative status by the Economic and Social Council of the United Nations since 1949. Officially, the ISI was established in 1885. A majority of the world's central bureaus of statistics are represented within the ISI network. The IAOS was created and developed as a specialized section of the ISI.