Main contents start here
News Bulletin
May 11, 2011
---
Results of the 2009 Economic Census for Business Frame released
On March 1, 2011, the SBJ released the results of the first "Economic Census for Business Frame" taken in July 2009. The Economic Census is a newly established census that aims to draw a complete picture of economic activities of Japan at a glance. The Economic Census was initiated by rationalization of large-scale surveys, such as the Establishment and Enterprise Census.
According to the results, the total number of establishments in Japan stood at 6.045 million, and the total number of employees was 62.931 million as of July 1, 2009.
The average number of establishments per km2 was 16.2. When broken down by prefecture, Tokyo had the highest number with 317.4 establishments, followed by Osaka-fu with 237.0, and Kanagawa-ken with 130.4. These three were the only prefectures to had more than 100 establishments per km2.
The number of establishments per km2 by prefecture*)

*)For the information about prefecture name, please check the following URL.
http://www.stat.go.jp/english/data/handbook/pdf/shjmap_a.pdf
When broken down by major industrial groups, "Wholesale and Retail Trade" had the largest number of establishments with 1.556 million establishments (25.7% of the total), followed by "Accommodations, Eating and Drinking Services" with 781 thousand (12.9%).
The number of employees by major industrial group was largest also in "Wholesale and Retail Trade" with 12.709 million (20.2%), followed by "Manufacturing" with 9.850 million (15.7%).
Composition of establishments and employees by major industrial groups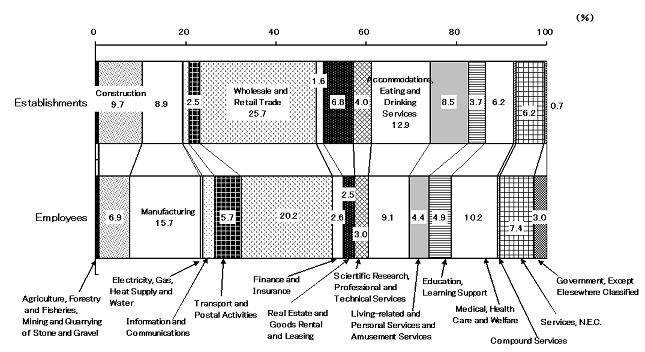 ---
(Source) 2009 Economic Census for Business Frame (SBJ)
For further detailed activities concerning the project by the SBJ, see the website below.
http://www.stat.go.jp/english/data/e-census/index.htm