Main contents start here
News Bulletin
April 7, 2011
---
Supporting the Cambodian 2011 Economic Census
The SBJ has been providing support to the National Institute of Statistics (NIS), Ministry of Planning, Cambodia, through an international technical cooperation project. The goal is to build up the capacity of NIS to implement the Cambodian Economic Census of March 2011. The project is funded and coordinated by the Japan International Cooperation Agency (JICA). The organizations involved in the project include the SBJ, the Statistical Research and Training Institute*), the National Statistics Center*), and private consultancy agencies.
*) The Statistical Research and Training Institute is the central training organization on official statistics belonging to the Ministry of Internal Affairs and Communications. The National Statistics Center is the organization specialized in statistical data processing for the Government as well as the SBJ.
This is the first-ever Economic Census in Cambodia. The SBJ has been supporting this survey from the planning stage by dispatching the staff on a quarterly basis. Besides this short term help, the SBJ has also been accepting NIS staff as trainees in Japan. After implementation of the field survey, the SBJ will continue supporting data-processing including computer programming, analysis and dissemination of the results.
Field survey of the Economic Census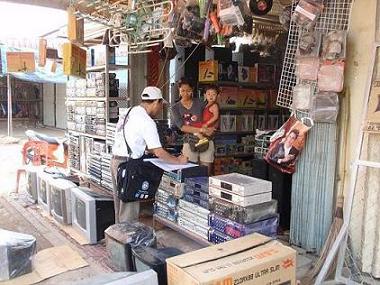 In this international technical cooperation project there are three phases. Phase ?, from August 2005 to March 2007, aimed at supporting basic statistical training for the statistical staff of the Cambodian government. Phase ?, from April 2007 to September 2010, aimed at supporting the planning and implementation of the 2008 Population Census and the 2009 Nationwide Establishment Listing. At present, the SBJ backs up the NIS on implementing the 2011 Economic Census, 2013 Inter-censal Population Survey, 2014 Economic Statistics Survey and other statistics surveys. These surveys form Phase ? of the cooperation project which runs from October 2010 to March 2015.
---
For further detailed activities concerning the project by the SBJ, see the website below.
http://www.stat.go.jp/english/info/meetings/cambodia/phase3.htm