Main contents start here
News Bulletin
December 24, 2010
---
The 24th Japanese Statistical Mission to Korea
The 24th Japanese Statistical Mission to Korea headed by Mr. Yoshihide TOTANI, Director-General, National Statistics Center (NSC), visited Korea from 6 to 11 December 2010.
They had discussions with the staff of the Korea National Statistical Office concerning Population Census and Business Resister.
In addition, the mission visited Busan, and exchanged information about statistical activities at the local level with the staff of Busan Metropolitan City Government.
Japan and Korea have been exchanging statistical missions each other almost every year since 1982. The missions aim to develop official statistics for both countries, and have served as opportunities to discuss the experiences and challenges between the two offices with regard to a wide range of statistical issues, such as organization, surveys, tabulation and data provision, and circumstances of local statistical organizations.
The members of the 24th mission were as follows:

Mr. Yoshihide TOTANI Director-General, NSC
Mr. Tetsuya IWASA Director, Economic Structure Statistics Division, Statistical Survey Department, SBJ, Ministry of Internal Affairs and Communications
Mr. Yuichi FUJITA Director, Planning and Management Office, General Affairs Department, NSC
Mr. Ichiro ONO Director, Industrial Statistics Section, Statistics Division, Bureau of General Affairs, Tokyo Metropolitan Government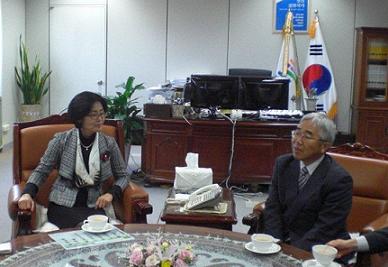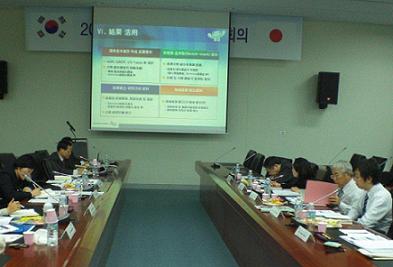 The 24th Japanese Statistical Mission with senior staff of the Korea National Statistical Office