Main contents start here
Monthly Results -August 2019-
Released on October 1, 2019
[Note]
Retroactive adjustment data, calculated by applying 2015 census-based benchmark population instead of previously released 2010 Ceunsus-based, are used for calculating "Change from the year" during 2017 (excluding rate).

Previously released information
Link to statistical tables & database (Whole Japan)
is "Portal Site of Official Statistics of Japan" (external site) where you can browse statistics tables and database.
Summary of the August 2019 Survey Results
(1) Employment
The number of employed persons in August 2019 was 67.51 million, an increase of 690 thousand or 1.0% from the previous year.
(2) Unemployment
The number of unemployed persons in August 2019 was 1.57 million, a decrease of 130 thousand or 7.6% from the previous year.
The unemployment rate, seasonally adjusted, was 2.2%.
(10 thousand persons)
August figures
Change from the previous year
(%)
Population aged 15 years old and over
11091
-7
-0.1
Labour force
6908
56
0.8
Employed persons
6751
69
1.0
Employee
6025
72
1.2
Unemployed persons
157
-13
-7.6
Not in labour force
4177
-59
-1.4
Labour force participation rate (%)
62.3
0.6
-
Employment rate (%)
60.9
0.7
-
Unemployment rate, original series (%)
2.3
-0.2
-
Current month
Change from the previous month
Unemployment rate, seasonally adjusted (%)
2.2
0.0
-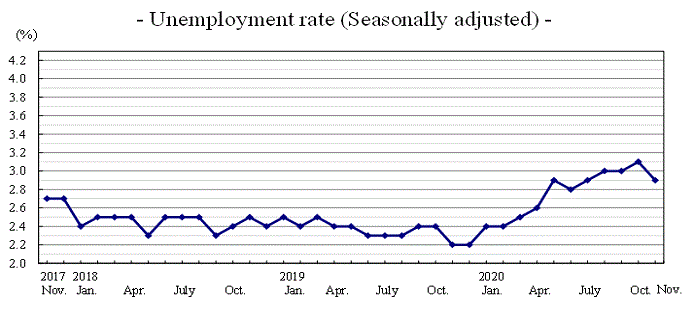 The latest month
Table 1 Population aged 15 years old and over by labour force status, employed person by industry, and unemployed person(Excel:19KB)
Time series
Table 2 Population aged 15 years old and over by labour force status(Excel:23KB) (Labour force, Employed person, Unemployed person, Not in labour force, Labour force participation rate, Employment rate, Unemployment rate)
Table 3 Employed person by agriculture and forestry or non-agricultural industries and status in employment, and weekly and monthly hours of work for employed person at work in non-agricultural industries(Excel:22KB)
Table 4 Employed person by major industry(Excel:20KB)
Table 5 Employee by major industry(Excel:20KB)
Table 6 Employee excluding executive of company or corporation by type of employment(Excel:25KB)
Table 7 Regular employee by major industry(Excel:21KB)
Table 8 Non-regular employee by major industry(Excel:21KB)
Table 9 Employee excluding executive of company or corporation by duration of employment contract(Excel:36KB)
Table 10 Unemployed person by reason for seeking a job(Excel:23KB)
Table 11 Population aged 15 years old and over by age group(Excel:23KB)
Table 12 Labour force by age group(Excel:23KB)
Table 13 Employed person by age group(Excel:23KB)
Table 14 Unemployed person by age group(Excel:22KB)
Table 15 Not in labour force by age group(Excel:23KB)
Table 16 Labour force participation rate by age group(Excel:23KB)
Table 17 Employment rate by age group(Excel:23KB)
Table 18 Unemployment rate by age group(Excel:22KB)
Table 19 Regular employee by age group(Excel:22KB)
Table 20 Non-regular employee by age group(Excel:22KB)
Table 21 Rate of non-regular employee by age group(Excel:23KB)
Table 22 Labour force participation rate, employment rate, unemployment rate, etc. by age group (regrouped)(Excel:27KB)
Cross section
Table 23 Employee excluding executive of company or corporation by age group and type of employment(Excel:19KB)
Seasonally adjusted time series
Table 24 Seasonally adjusted series of major items(Excel:24KB) (Labour force, Employed person, Unemployed person, Not in labour force, Unemployment rate)
Notes
Notes on the results