2012 revision of benchmark population
Released on February 20, 2012
[Note]
Using the latest results of the Population Census as the base, the benchmark population for calculating the results of the Labour Force Survey are revised every five years.
It will be revised to the 2010 Census-based population estimates in January 2012 for Basic Tabulation, and in Jan.-Mar. 2012 for Detailed Tabulation.
Differences arising from 2012 benchmark revision are following.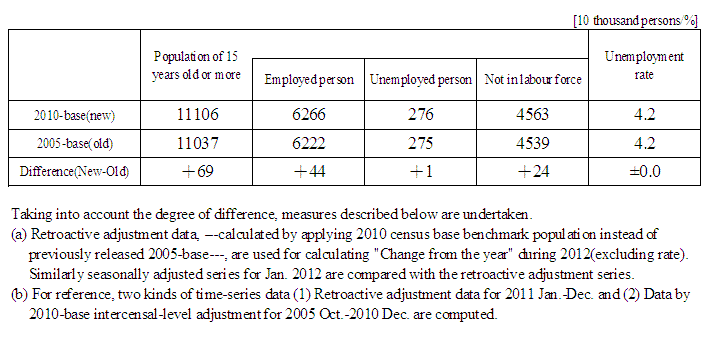 (Reference) Statistical tables
(1)Monthly historical data by 2010-base retroactive adjustment and (2)Monthly and Annual historical data by 2010-base intercensal-level adjustment
The statistical tables are formatted on excel files.
(1) The retroactive adjustment data (2011 January - December)
(2) The intercensal-level adjustment data (2005 October - 2010 December)
Basic Tabulation
[Monthly figures]
[Population of 15 years old or more]
[Labour force]
[Employed person]
[Employee]
[Unemployed person]
[Not in labour force]
[Quarterly figures]
[Employed person]
[Unemployed person]
[Annual average figures]
[Population of 15 years old or more]
[Labour force]
[Employed person]
[Employee]
[Unemployed person]
[Not in labour force]
Detailed Tabulation
[Quarterly figures]
[Employee]
[Annual average figures]