Main contents start here

7. Households with family member aged over 65
Higher proportion households with old people are nuclear and solitary-person households.
- Since 1995, the number households with a family member aged over 65 (old person) has gone up by 2,264,377, a 17.7% increase to the current total of 15,044,608 (32.2% of all households).
Of these, nuclear families have increased by 31.7% to 6,797,909 (45.2% of all households with an old family member) and the number of old people living alone increased 37.7% to 3,032,140 households (20.2% of all households with an old family member). Households with old people have shown a steep tendency to become smaller, with great increases in the number of nuclear families with old people and old people living alone.
- Locally, in the total number of households, the highest proportion with an old person is 49.8% in Yamagata Prefecture, followed by 48.1% in Shimane Prefecture and 47.8% in Akita Prefecture. Most of the prefectures on the Japan Sea Coast have a high percentage of households in this category.
By contrast, the lowest proportion of households with old people is 24.7% in Kanagawa Prefecture, followed by 25.1% in Saitama Prefecture, and 25.4% in Metropolitan Tokyo.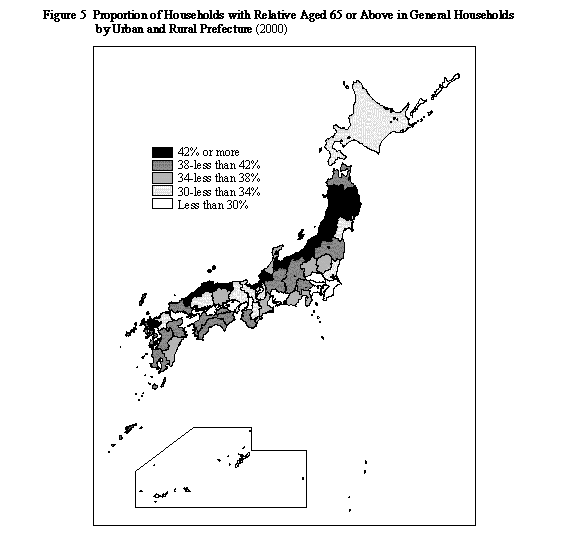 <-6. Family structure of households
8. Households comprising solitary old person->